GLOBAL EVENTS
September 2023
Planetary Dance – Saturday, 02 September, 15:00
Location: Essen, Germany – Museum Folkwang
in conjunction with "We Is Future" exhibition
Leader: Dohee Lee Websites: https://www.museum-folkwang.de/de/veranstaltung/kulturfest-wir-sind-im-garten-planetary-dance

August 2023
Planetary Dance – 20 August
Location: Berlin, Germany – Tempelhofer Feld
Contacts: Karla Knie: karla.knie@gmail.com karlaknie.de
Yvonne K. Bahn: ykb@gmx.net, info@atelier-healingarts.de
Daria Kaluza: psychotherapie.kaluza@outlook.de
Websites: https://www.atelier-healingarts.de/planetary-dance/

July 2023
Planetary Dance – 23 July
Location: Berlin, Germany – Tempelhofer Feld
Contacts: Karla Knie: karla.knie@gmail.com karlaknie.de
Yvonne K. Bahn: ykb@gmx.net, info@atelier-healingarts.de
Daria Kaluza: psychotherapie.kaluza@outlook.de
Websites: https://www.atelier-healingarts.de/planetary-dance/

June 2023
Planetary Dance – 24 June
Location: Montpelier, France
Leader: Marie Close infomarieclose@gmail.com
Websites: http://marieclose.art
Film: Open MP4 Video
Planetary Dance – 18 June
Location: Hedland Beach(T bar), Chigasaki, Kanagawa Japan
Leader: Kiyomi Koshiji
Contact: Facebook @Kiyomi Koshiji Websites: https://www.facebook.com/kiyomi.koshiji

Planetary Dance – 25 June
Location: Berlin, Germany – Global Stones near Brandenburger Tor.
Contacts: Karla Knie: karla.knie@gmail.com karlaknie.de
Yvonne K. Bahn: ykb@gmx.net, info@atelier-healingarts.de
Daria Kaluza: psychotherapie.kaluza@outlook.de
Websites: https://www.atelier-healingarts.de/planetary-dance/

Planetary Dance Facilitation Workshop 14 – 18 June
Location: Locmariaquer, Brittany, France
Contact Instructors: Marie Motais mariemotais.alluna@gmail.com
Audicia Morley audicia@tamalpa-uk.org
Websites: www.allunadanse.com and www.tamalpa-uk.org


Planetary Dance (open to the public)
18 June, time to be announced
(See above for location and contacts.)

2022 Events
September 2022
Planetary Dance for Peace in Us and in Ukraine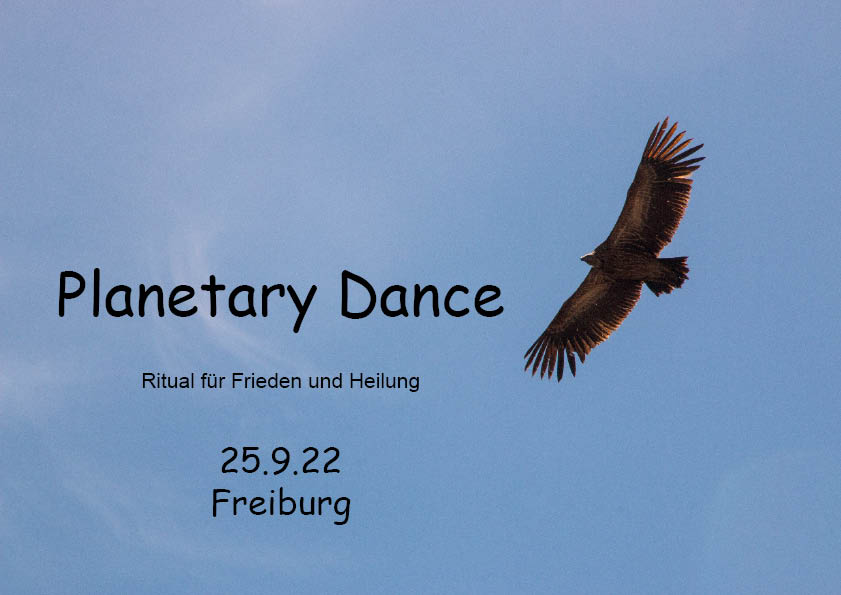 25 September 14:30
Location: Freiburg, Germany
Contact: Franziska Hauer franziska.hauer@googlemail.com

August 2022
Planetary Dance – 27 August 11:00
Location: Dusseldorf, Germany
Contact: Franziska Hauer franziska.hauer@googlemail.com

March 2022
Planetary Dance for Peace in Ukraine – 20 March, 11:30am
Location: Freiberg, Germany
Contact: Franziska Hauer franziska.hauer@googlemail.com

Planetary Dance for Peace in Ukraine – 13 March, 13:00 – for 1 hour
Berlin, Germany
Location: Tempelhofer Feld. Feel free to bring drums.
Contacts: Ursula Schorn: www.touchingground.de
Katrin Stelter: katrinstelter.de/event/1965
Website: www.tamalpa-germany.de/kalender/2020/6/21/earth-run-an-mittsommernacht-734gy-7nfwb
Facebook: facebook.com/events/340380301436683?ref=newsfeed
Planetary Dance for Peace in Ukraine
June 2019
21 June Summer Solstice (20th anniversary!)
Freiburg, Germany
Contact: Katrin Stelter
Website: http://katrinstelter.de/event/earth-run-mittsommernacht/
23 June (Sunday)
Creux du Van (Neuchâtel) – Switzerland (4th year)
Contact: Gabriela Barbara Senn al
Website : coeuretoile.ch
Sunday, June 2nd 
St. Antonin Noble Val, France 
Contact: sues@coredance.org
Facilitator: Sue Schroeder 
August 2018
Wednesday and Thursday, August 8 & 9, 7:30pm
Escales, France (in the South) – Rue de Pech, 11200 Escales
Contact: Lisa D. Long dlongdance@gmail.com
Website: lisadlongdance.com
June 2018
Saturday, June 23
Butzbach, Maibach, Germany
Contact: Katja Rendler
June 21  Summer Solstice 
Freiburg, Germany 
Contact: Katrin Stelter 
Website: http://katrinstelter.de/event/earth-run-mittsommernacht/ 
June 20 18:30 till Summer Solstice 
Locmariaquer, France 
Contact: Marie Motais 
Website: https://www.allunadanse.com/ 
Monday, June 18 20:00 
Ravensbrueck, Germany 
Womens Concentrationcamp 
Meeting Place June 17th: Schluesshof, Lychen 
Contact: Ursula Schorn, Berlin 
Website: www.touchingground.de
Sunday, June 17
Chigasaki, Kanagawa Japan
Contact: Kiyomi Koshiji
Website: https://www.facebook.com/PlanetaryChigasaki/
Sunday, June 17 18:30
Milan, Italy
AL PARCO ( park) RAVIZZA, Viale Giovanni Brahms
Contact: kyriale69@yahoo.it
Sunday, June 10 
Bassillac, France 
Contact: Gwenaelle Doerflinger 
Website: https://lavoixquidanse.jimdo.com/ 
Sunday, June 3
Helsinki, Finland
Contact: Sofia Laine
Website: https://www.facebook.com/events/186505311966167/
Sunday, June 3rd
Lyon, France
Contact: Ivola deMange
Website: http://www.ivolademange.com/danse-planeacutetaire-6.html
April 2018
Earth Day – Sunday, April 22nd 10:30am – 12:00pm
Point Ormond Park, Elwood Melbourne, Australia
Theme: Peace and Compassion
Contact: Viv Neale vivneale@optusnet.com.au or Tony norquaytd@ihug.com.au
October 2017
Saturday, October 21st
Shanghai, China
Contact: Airene Wong wangun@helin.org.cn or helin@helin.org.cn
Website: https://site.douban.com/helinshe/widget/notes/193108922/note/629353103/
June 2017
Sunday, June 25
Lausanne, Switzerland
Contact: joy.ceci-lart@sunrise.ch Carike Beyele, Cecile Latigue Demont & Valenti and Lasserre
Saturday, June 24
Dordogne, France
Contact: Gwenaelle Doerflinger gwenaelled@hotmail.com
Website: https://lavoixquidanse.jimdo.com/stages-et-ateliers/
Wednesday, June 21
Freiburg, Germany
Contact: Katrin Stelter 0049 761 7074501 or info@katrinstelter.de
Website: http://tamalpa-germany.de and http://katrinstelter.de/event/earth-run-2016/
Sunday, June 11 6:30am (opening ceremony 4am)
Chigasaki, Japan
Contact: Kiyomi Koshiji wolfruns@gmail.com
May 2017
Friday, May 12, 2017
Venice, Italy-57th International Art Exhibition of La Biennale di Venezia
Planetary Dance leaders: Dohee Lee and Jahan Khalighi
Video: https://www.youtube.com/watch?v=9xJvu4iu8Ck&sns=em
Thursday, May 25
University of Luxembourg, Belval, Luxembourg
Contact: Miranda Welter anne-marie.welter@education.lu
April 2017
April 16th – Easter Sunday – 20th anniversary Planetary Dance!
Neuss, Germany
Contact: Christoph WinkelmannChristoph@web.de or Sigrid wolfsig@aol.com
Website: http://www.healingarts-ig.de/planetary_dance.php
Past Events – 2016
---
September 2016
Wednesday 21 September 2016 @ 5p.m.
London, England – Imperial War Museum
Contact: Misha Horacek – info@mishahoracek.com
Website: www.mishahoracek.com
July 2016
Saturday, July 16 7:30pm
Stuttgart, Germany
ASV-Gymnastikhalle, Furtwänglerstr.122, Stuttgart-Botnang
Eva Vigran and Team
Contact: Eva@coreconnexion.net, +49 (0) 172 9396331
Website: http://coreconnexion.net/
June 2016
Sunday, June 5 11:00:
Center Pompidou – Metz, France
Parc de la Seille, Metz
Website: http://www.centrepompidou-metz.fr/planetary-dance
Sign-up and information contact : planetarydance2016@centrepompidou-metz.fr
Preparation/rehearsal: Friday, 27 May 18:00; Saturday, 28 May 14:00; Sunday, 29 May 14:00
Tuesday, June 21
Freiburg, Germany
Contact: Katrin Stelter 0049 761 7074501 or info@katrinstelter.de.
Website: http://tamalpa-germany.de and http://katrinstelter.de/event/earth-run-2016/
May 2016
Sunday, May 1
Melbourne, Australia
Point Ormond Park, Elwood (end of Glenhuntly Rd at Marine Pde)
Contact: Viv (vivneale@optusnet.com.au) or Tony (norquaytd@ihug.com.au)
April 2016
Saturday, April 16th 14:30
Brussels, Belgium
Forest Park entrance
Contact: info@eaudeladanse.be
website: www.eaudeladanse.be
April 5th – Easter Sunday
Location: Neuss, Germany
Contact: Christoph Winkelmann or Sigrid Wolf
website: http://www.healingarts-ig.de/planetary_dance.php
March 2016
Tuesday, March 29, 14:30
Brussels, Belgium
Forest Park entrance
Contact: info@eaudeladanse.be
website: www.eaudeladanse.be
---
Past Events – 2015
Sponsored by Tamalpa Institute:
Please visit www.DancesforAnna.org – a Worldwide Celebration of Anna Halprin in her 95th year!
September 2015
September 21 (International Peace Day)
London, England
Contact: Misha Horacek (info@mishahoracek.com)
Websote: www.mishahoracek.com
August 2015
August 12:
Schloss Glarisegg, Steckborn, Switzerland 7.30 pm
(in the meadow in front of Chateau)
Contact: Eva Vigran, (eva@coreconnexion.net)
July 2015
Sunday, July 19:
Mullumbimby, NSW, Australia
Contact: Jennifer Lalor (jlalor@infoasis.com)
June 2015
Friday, June 5:
Porto, Portugal
Contact: Teresa Prima (teresaprima@gmail.com) and Marta Maciel
Website: balleteatro.pt
Sunday, June 7:
Bogota, Colombia
Contact: Mariana Osorio (tamalpacolombia@gmail.com)
Melbourne, Australia
Contact: Vivienne Neale (vivneale@optusnet.com.au) and Tony Norquay
Aubusson, France
Contact: Fabrice Dugied (fabdugied@gmail.com) and Damien Dreux
Website: adiam.creuse.com/article15.html
Lyon, France
Contact Agnès Millet (millet_agnes@yahoo.fr) and Beatrice Maine
Grande Peolouse Roquehautes, Sainte-Victoire, Aix-en-Provence, France
Contact: Aude Cartoux (audecartoux@gmail.com) and Yoann Boyer
Website: www.Vaudecartoux.com
Ettelbrück, Luxembourg
Contact: Miranda Welter (info@danzatelier.lu)
Website: www.danzatelier.lu
Creux du Van, Neuchâtel, Switzerland
Contact: Barbara-Gabrielle Senn (lutinetteenvoyage@gmail.com)
Monday, June 8:
Siobhan Davies Dance Studios, London, England.
Contact: Lian Wilson (info@tamalpa-uk.org) and Audicia Lynne Morley
Website: tamalpa-uk.org
Sunday, June 21:
Chambery, France
Contact: Agnès Millet (millet_agnes@yahoo.fr) and Beatrice Maine
Freiburg, Germany
Contact: Katrin Stelter 0049 761 7074501 or info@katrinstelter.de.
Website: tamalpa-germany.de and katrinstelter.de/event/earth-run-2015
Sunday & Monday, June 21-22:
East Lothian, Scotland
Contact: Audicia Lynne Morley (seed@audicia.com).
Website: statetheta.com
Sunday, June 28:
Lausanne, Switzerland
Contact: Cecile Lartigue (lartigue.c@sunrise.ch), Laurence Demont, and Carole Beyeler
May 2015
Saturday, May 9:
Seoul, South Korea.
Contact: Tamalpa Korea Faculty
www.tamalpakorea.com.
Thursday, May 28:
Buenos Aires, Argentina
Contact: Ingrid Scherf (ingridscherf@gmail.com)
April 2015
April 5th – Easter Sunday
Location: Neuss, Germany
Contact: Christoph Winkelmann or Sigrid Wolf
http://www.healingarts-ig.de/planetary_dance.php
Click here for a List of Events in Past Years